JOIN OUR BIRTHDAY CLUB!

Did you know when you have a birthday, you are entitled to a day of fun at Tustin Ranch?
Yes, that's right - a potentially free round of golf, free lunch and free range balls.
There are no restrictions on what type of golf round is played (18-hole or twilight, Monday through Sunday); the only restrictions involve how many golfers are playing (if the birthday person is not a Member of The Club at Tustin Ranch).
Effective April 1, 2014 the following changes to the Birthday Program will take place:
Members Receive:
Free round of golf on your birthday

Guests of members receive member rate on actual birthday, up to 11 guests at that rate. Monday thru Thursday $58/$69*, Friday $79/$90*, Weekend/Holidays $95/$106*

Birthday renewal option of $100 off renewal rate ($480) even if not up for renewal, must be present with ID to take advantage of offer

Complimentary bucket of balls and breakfast or lunch item from the menu
The Public Receives:
$380 to sign up for a Membership on your birthday (normally $595), all guests that day would then receive a member rate which is the lowest available rate for anyone!

Non-Member guest rates are Monday thru Thursday $84/$95*, Friday $105/$116*, Weekends/Holidays $126/$137*

Can bring up to 11 guests at a discounted rate

Complimentary bucket of balls and breakfast or lunch item from the menu
*Rates shown are Walking/Riding. Subject to availability and not guaranteed to finish.
In order to receive the completely free day of golf, lunch and range balls, the individual who is the birthday person (non-Member of The Club at Tustin Ranch) must be accompanied by at least one guest at the new Birthday Guest Rate (see above). If not accompanied by a guest, the birthday person can still receive the birthday package, but it will be at a cost of $40 (includes cart).
All current Members of The Club at Tustin Ranch will continue to experience the previous completely free offer on their birthday and will not be subject to the $40 fee. Being a Member does have its privileges!

Tee times for birthday rounds must be reserved thru the Pro Shop.

PLEASE DO NOT USE THE ONLINE BOOKING SYSTEM for

your birthday rounds.

Birthday rounds will not be valid if reservations are made on-line.

Birthday tee times can be reserved 5 days in advance.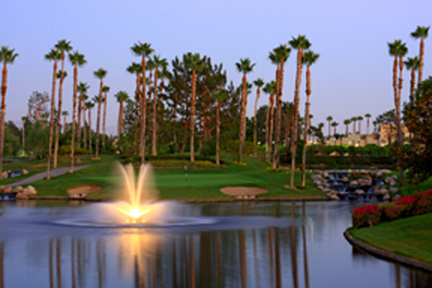 The "free golf" day MUST take place on the golfer's birthday and is subject to tee time availability. It must be noted that this is free golf on your birthday; it is not a free birthday round to be used any time of the year. Even if there is a tournament on your birthday there are always a couple of tee times available at some point on that day and the golfer is entitled to use one of those. At times of limited availability due to tournaments or daylight hours, our free offer still stands; and our offer is to allow you to complete as many holes as possible in the time available. After all, it's a free offer for your birthday to use as you wish, and no rain checks will be issued.
There are two ways to be a part of our Birthday Club:
First, sign up on our web site. Just click the red button to go to the sign up page. Complete the required fields and your information gets stored in our database, which we do not share with anyone. A reminder will then be sent to you a few days before your birthday to alert you of your free upcoming day at Tustin Ranch. (NOTE: this alert does NOT make your tee time for you; it is still up to you to make your own tee time!)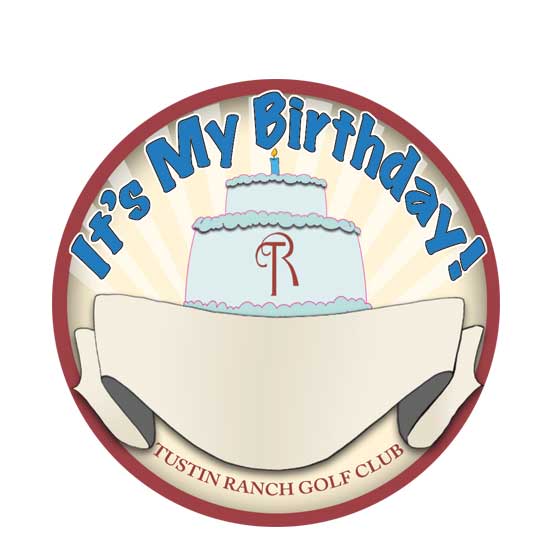 A second way to participate is: make your tee time and upon check-in, you must present some sort of identifier at the Golf Shop proving it is your birthday: driver's license, passport, etc.
Either way, you will then receive a 3" Birthday button. You must wear the button on your shirt or hat in order to receive the free range balls, free golf and free lunch.
We hope you'll find this Birthday Club a fun thing to do and choose to spend your birthday with us!